Yeayyy!! another contest organized by
Baby & Me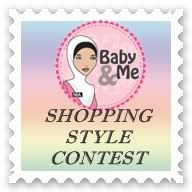 Baby & Me shopping style?? This is what I do bestt!!!
You can get more info here
So this is how I do it :
1. Go out when it's time for his nap.
- mine is during the afternoon. He will fell asleep no matter how hard you rock him. Nap time is essential for him. Then you can do your shopping !
2. Bring some 'assistance' to assist you.
- Never go out shopping alone! Unless your baby is the kind of stays put for hours!
3. Bring more 'assistance'!
- The more the merrier!!! He's bored with one person, tukar orang pulak :P
4. Bring some snacks or toys to distract him
- snacks are the best! He's full and it distract him at the same time :P
Nama Anda: Ida Yezid
Nama Kanak-Kanak & Umur: Hariz & 1 Tahun 3 bulan
Hubungan dengan Kanak-Kanak: Mak nyer
Thanks to all sponsors :
Baby & Me Shopping Style Contest
dianjurkan oleh
Dengan hadiah-hadiah menarik daripada